Leather seats (custom or original)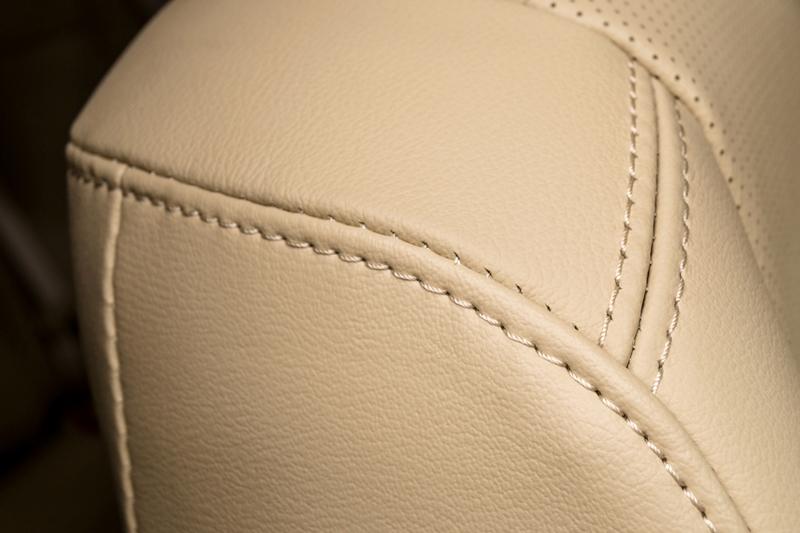 In difference to synthetic materials, leather breathes,  it can absorb and release moisture as needed. This prevents the stickiness and clammy skin sensation that comes from sitting on vinyl or other plastic based seat upholstery. Leather also lasts longer than cloth upholstery because it's flexibility, and it is  tough enough to resist tears and punctures. Leather is also more resistant than cloth when it comes to dirt and spills, hence, leather seats can usually be cleaned with a damp cloth, combined with a mild cleanser when necessary. The color of leather doesn't fade as easily as other materials, as the  dye is absorbed into the leather skin during tanning processes. So its natural shade remains on areas of the seat that are used the most, and doesn't scrape off when accidental scuffs occur.

We offer a grand selection of complete leather upholstery kits for newer or vintage cars, to replace your vehicle's existing fabric. Our leather interiors are cut from the finest grades of leather that often exceed OEM specifications. We also use trusted OEM suppliers of leather interiors to automakers.
Convertible Top Replacements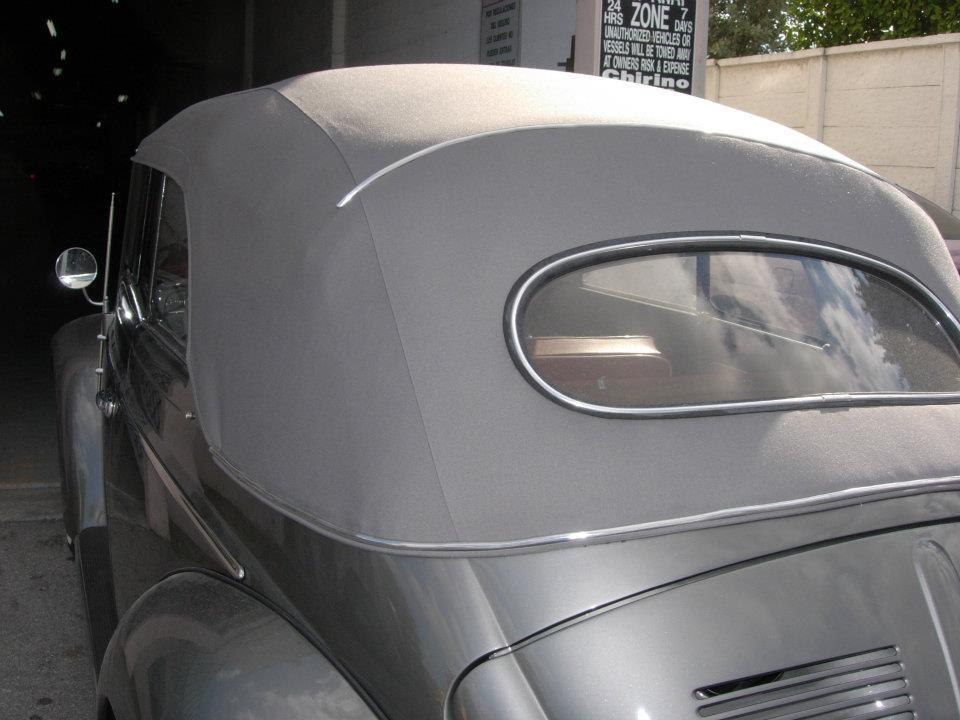 We offer a complete line of convertible tops for all car models in original or custom colors as well as vinyl and canvas material to custom create your top just like you want it. At Rivero Auto Interiors all convertible tops are professionally installed by trained technicians for either mechanical or hydraulic systems.
We provide the most advanced glass window tops with an ULTRAMAXX window bonding system by GAHH Automotive with a lifetime warranty. Highly recommended to prevent window separation and leaks, ULTRAMAXX is considered the best esthetically and in quality.
Replacing your car's convertible top can transform it as if it was a brand new car. With our wide selection of quality materials and our trained technicians on hand, you can create the perfect top to fit your personality and all of your car interior repair needs. If you are looking to repair your convertible top or if you would like to switch out your top for a new modern and fresh convertible top then we have you covered. At Rivero Auto Interiors we cater to our customers and provide quality auto upholstery services. For more information and details please call (305) 436-5884.
Antique Restoration.
If you want to get rid of stains and rips on the carpet and bring back that "new car" smell! We have a large line of automobile replacement carpets, floor mats and trunk mats and of course the replacement of all insulation. All of our carpeting replacements include cleaning of floor metal and lubrication of all electrical terminals.

We have all types of flooring including rubber for most cars, vans, and trucks. Our auto upholstery specialists provide economical to high end seat upholstery to fit your needs. Molded to each car floor as original to insure perfect fitting, all our carpets are installed by professionals in the trade, trained to handle electrical components that are vital to the car.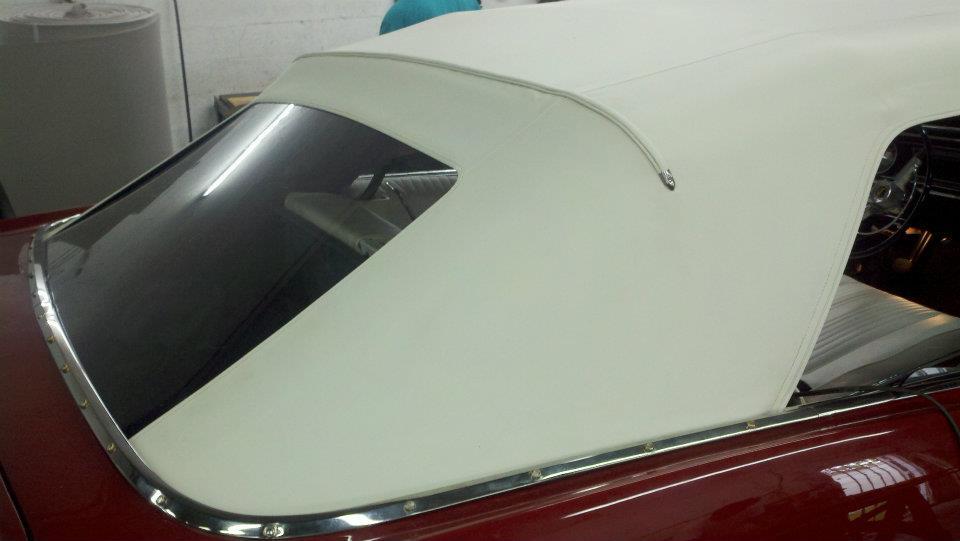 We at Rivero offer a complete line of tailor made automotive headliner materials. Your dream becomes a reality here at Rivero Auto Interiors. Our catalog includes headliner fabric from original to custom such as suede, vinyl and leather made to match your auto upholstery specifications. We specialize in upholstery for your sunroofs. Every inch of your car interior repair matters to us. Our goal is to create the perfect driving experience, beginning with your car's interior.   Sometimes you spend more time driving in your car then than you do at home.  So why not dedicate as much attention as possible to your second home.

Small details like your headliners and sunroof can make all the difference in your car. This is why our highly trained and skilled technicians also specialize in car sunroof repairs. We understand that things happen and sometimes things do not work as they should. You no longer have to suffer being kept away from perfect sunshine filled days by your faulty sunroof. Bring your car in and we will make sure you never miss another sunny day. 
Door Panels  and Dashboard Repair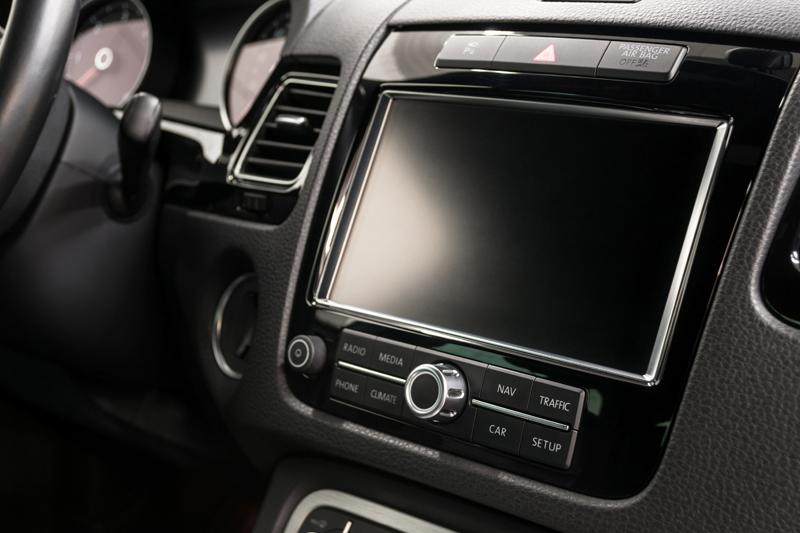 Refurbishing damaged leather, vinyl or fabric door panels or dashboard in your car, truck, van, motorhome, camper, motorcycle or recreational vehicle enhances its appearance and comfort and boosts the overall value of your investment. Whether you have faded or worn dashboards and panels, a damaged leather steering wheel, a cracked dashboard, door panels or armrests, Rivero Auto can make it look like new for a fraction of the cost.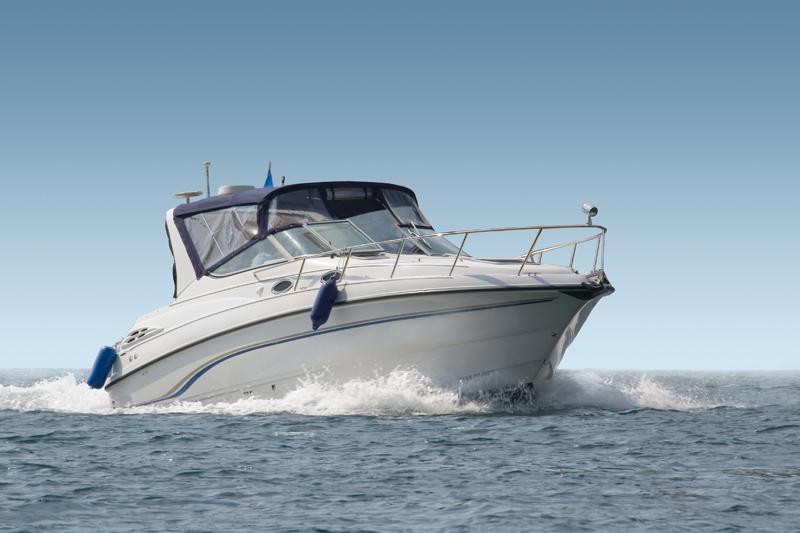 You can get a complete set of custom-made cushions for your  boat. The possibilities are endless.  We work with a variety of different types of foam, we can customize the perfect cushions and upholstery based upon your specific needs. With all of the different construction formats we have to offer, you are sure to find what you need in our custom upholstery for boats.
If your concern is that your cushions stay in place, that isn't a problem. We have  a variety of different solutions to attach the cushions to your boat and make sure they stay right where you need them to. . Regardless of whether your cushions are in need of repair, recovery, foam replacement or you simply want something new, we can help, just call us and we will be happy to take on the project so your can enjoy the sea.
Rivero Auto has been the leader in premium quality, tailor-made leather interiors for over 35 years. There is nothing like the luxury and style of genuine leather to transform your whole interior.  This is why we customize and develop leather our own upholstery kits based on your needs and style, where we use the finest leather and ship any where in the country for your convenience.
Complete Restoration of Cars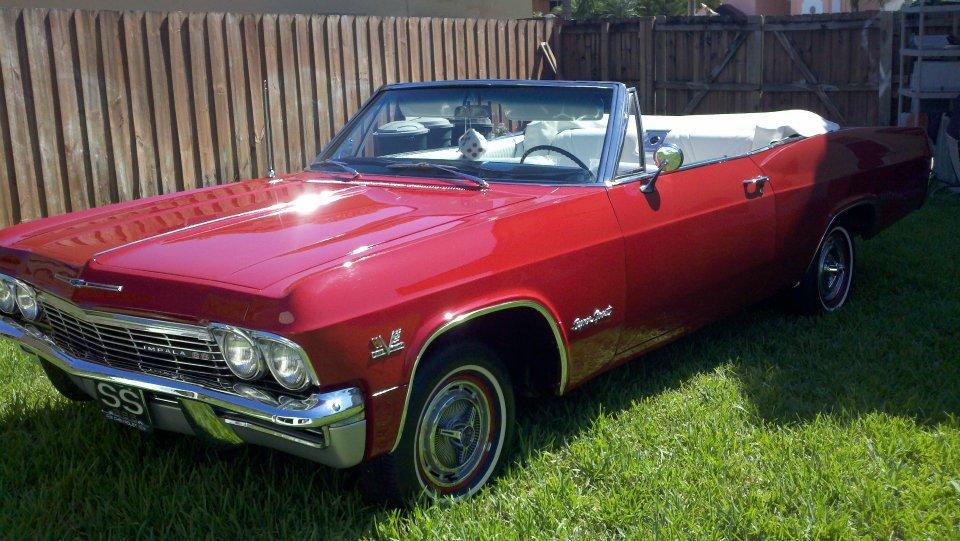 Is your car's interior suffering from normal, everyday wear and tear? If you notice your dashboard peeling, holes in your seat, or your convertible top cracking, let trust Rivero Auto to help with your repair.  By now your know we have over 50 years in the business, as well as extensive experience repairing various other types of materials including plastics, carpet, vinyl, and fabric.
We can fix a variety of automobile-related problems including:
Leather- Leather repair services include leather dye color restoration or color change, burns, tears/rips, holes, seams, cracks, stain removal, scratches, and clean/condition your leather.
Seat fabric- If your seat fabric has burns, holes, seams, color changes, tears, or needs cleaning, we can help.
Vinyl- Our vinyl restoration service can repair tears, holes, burns, scratches, and color change.
Dashboard repair- This includes repairing cracks, tears, scratches, color change, and restoration services.
Steering wheels- We can remove scratches, color re-dye, and color change to make your steering wheel look like new again.
Speaker covers- Our speaker cover repairs include fixing holes, tears, and color change to make the interior of your car look sleek.
Carpet- We can remove stains, re-dye your carpets, and repair burn holes so your car feels comfortable again.
Black trim plastics- We can repair color fading, scratches, and color changes.
Center console- If your center console is cracked, torn, burned, or scratched, we can fix it.
Headliners- Our headline repairs include fixing tears, holes, and burns.
Convertible tops- Convertible top repair includes cracks, holes, tears, scratches, and color change.
Smoke and odor elimination- If your car reeks of smoke, we can clean it to where you won't smell smoke again.
The reality is that if you repair your automotive fabric, instead of replacing it, you will be saving a lot of money, as well as increasing the value of your car.  Call Rivero Auto repair for a friendly estimate.